What Is Neo Traditional?
Neo-traditional tattooing is based on traditional roots and utilizes realist 3D elements with bright highly saturated colors and bold linework. Common themes in neo-traditional tattoos include animals (wolves, tigers, lions, owls, doves) as well as lighthouses, diamonds, skulls, and roses. Led by award-winning tattoo artist Rico Machette, Our tattoo shop in Fayetteville Tattoo is dedicated to providing clients with high-quality work they will love for a lifetime.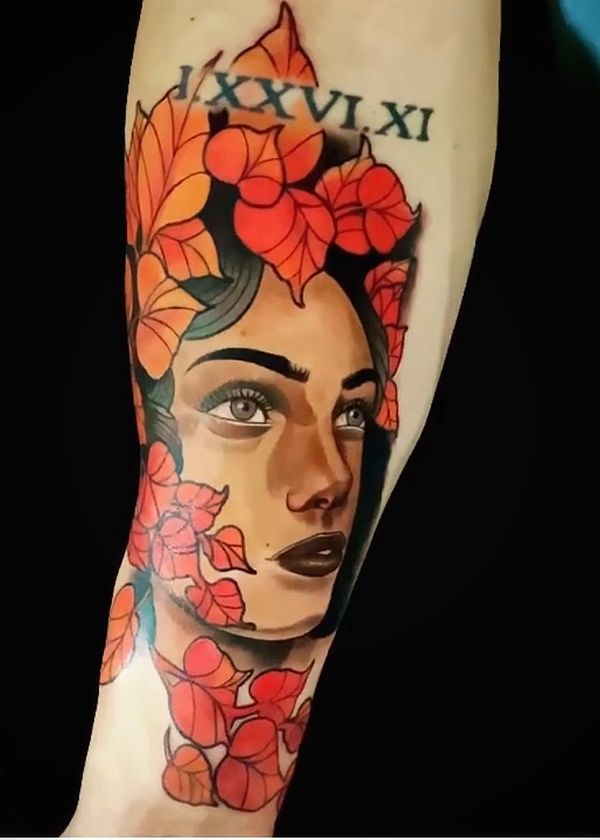 Neo Traditional Tattoos Are The Latest Tattoo Trend
Finding the Best Neo Traditional Tattoo Shop in Fayetteville NC
If you're considering a neo traditional tattoo, it's important to work with an artist whom you can trust. When you visit Envision, you'll find that our tattoo artists specialize in a variety of different tattoos, and we make sure no matter what you're looking for, you get a tattoo you love.
Your search often starts by searching for "neo traditional tattoo artists near me" or "best neo traditional tattoos." We want you to know that when you visit us for neo traditional work, we want to give you a tattoo that you're thrilled with. Because neo traditional tattoos are a popular style, it's crucial to choose an artist that specializes in clean outlines and a realist color style. Our artists are known for vivid detail work and shading that adds dimension to their work.
Neo traditional tattoos started appearing in the 80s, and it's a style that combines a number of influences into a look all its own. With its flowers, portraits, and animals, neo traditional tattooing is just as great for first-time tattoos as it is for those looking to complete a sleeve.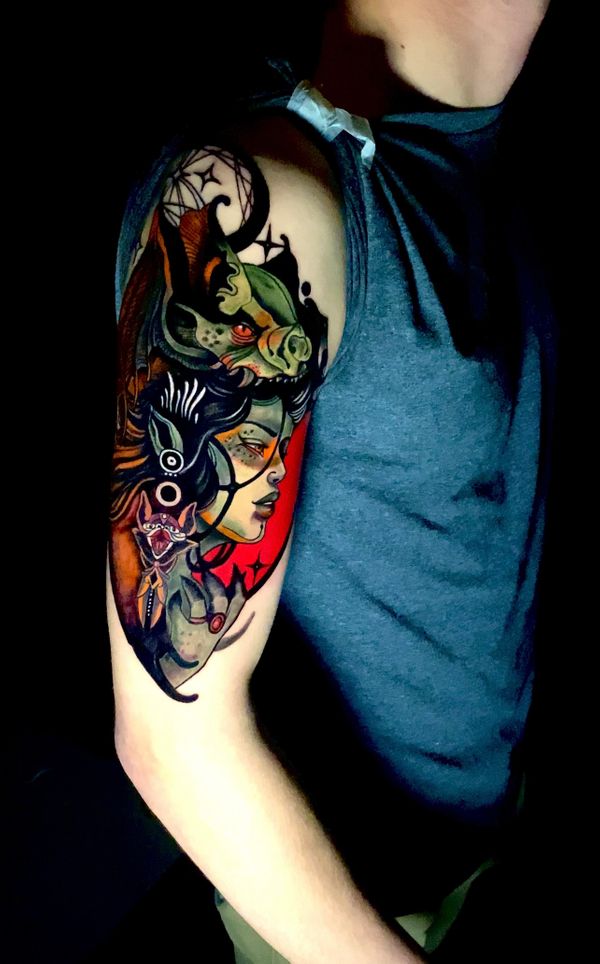 Visit Our Neo Traditional Tattoo Shop
Our team of tattoo artists in Fayetteville are dedicated to giving our clients the best experience possible. We enjoy neo traditional tattoos, and when you enlist in our assistance, you can be certain that you're working with a group of people who are enthusiastic about delivering an exceptional and memorable tattoo experience.
Neo traditional tattoos, because of their intricacy, may need a significant amount of expertise. Thankfully, we're the shop you can trust. With so many various neo-traditional tattoo designs to select from, you might be considering a portrait tattoo or something else entirely. Ultimately, if you're considering a neo traditional tattoo in Fayetteville, NC, we'd love to collaborate with you.
You'd be hard-pressed to find a team that brings more passion and dedication to the table than one with neo traditional tattoos, from detailed and intricate ones to conventional tattoos. Our team works hard to be the greatest tattoo shop in Fayetteville, NC, and our reputation is based on years of experience creating neo traditional tattoos. No matter what you have in mind, let us know and we'll make it happen.
Have an idea for a tattoo? We'd love to work with you, so don't hesitate to click the button below to get in touch with us. Ready to get a neo traditional tattoo today? At Envision, walk-ins are welcome, so stop in and see us.